Turanza ER300 - 235/55R17 103V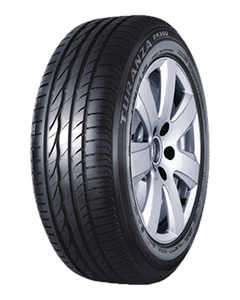 235/55R17 BST ER300 103VXL VW
Bridgestone Turanza tyres are designed to complement the engine power and ride comfort of high-performance saloons, estates and GTs.
This is Bridgestone's premium touring tyre designed both as factory fitment for leading car manufacturers and as a replacement tyre for luxury and mid-range touring models.
We can confidently recommend the Turanza ER300 as the FIRST CHOICE for owners of touring cars who want top-quality handling in all conditions and refined comfort.
Top-quality handling on wet and dry .
Outstanding wet performance, with the tyre compound and inside area of the tread
Pattern specially designed to enhance wet grip
Provides sharp steering response, cornering power and straight-line stability at higher speeds
Refined and quiet comfort
Extremely smooth and comfortable ride, due to the shock-absorbing carcass construction
Low noise output at all speeds is optimised by the advanced pattern design
How we compare...
There are 18 reviews for Turanza ER300
Overall rating
Good tyre for all round driving